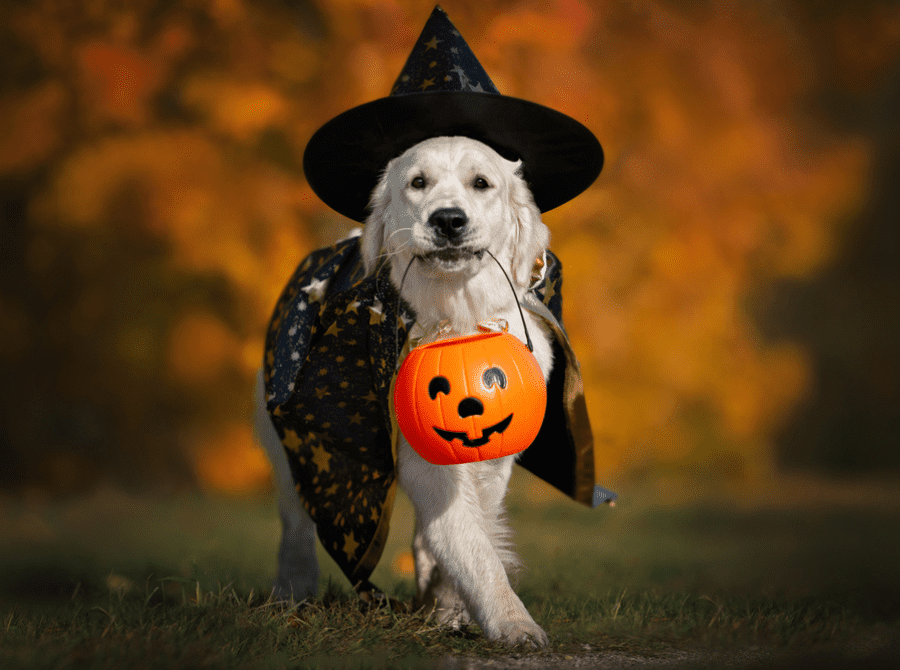 It's the spookiest time of the year once again!
Halloween can be a scary time for dogs, with all the parties, fireworks and knocking on doors. We know you want to keep your dogs feeling safe, and thankfully there are many ways you can take extra care of your dog and keep them happy during the halloween season – read on for our best tips!
Try to take your dog out for a walk during daylight when there's less people out and about – a big park would be best – but if this isn't possible think about indoor activities to tire your dog out.
You may want to keep your dog away from the door when opening it to trick or treaters, this could be by keeping them in a room with the door closed, or by using a stair gate to separate them from the entrance of your home. We also recommend making sure your dog has their collar with ID on, just in case they do get out!
Reward all good behaviour! Try giving them one of our treats to reward them and keep them entertained. Bare in mind that dog's can act out a little when they're feeling anxious, so try not to tell them off and instead be patient with them. Dogs are very aware of our emotions, and will likely become calmer if they see you remaining calm too.
Make sure your dog has a safe space that is away from front doors and windows so that they can go there if they get scared. This could be a crate or their bed, we recommend you keep them near you to help them remain calm. You could also use the TV or radio to help distract them from the noise outside.
Be careful about leaving sweets and chocolate around the house if you know your dog can get to them. Remember these can be highly toxic for dogs! Check out this previous blog post to learn more about foods your dog can't eat!
Switch your candles for battery-powered alternatives, as open flames are dangerous for curious pups with fluffy, wagging tails. You wouldn't want to risk an accident, so either keep candles high up where your pets can't reach them, or consider alternatives that are completely pet safe!
Remember, your dog doesn't know what day it is or what's going on, they'll only know that there's a lot of strangers coming to your house all night. Try to be patient, they will eventually calm down once they feel safe with you around. 
Happy Halloween!