Everyone loves a treat now and again, and your furry friends are no different! Knowing what to give your dogs on a raw diet can be confusing. Do you give them generic artificially flavoured treats, or is there a raw alternative? In this blog, we will explain what a raw dog treat is and what the benefits are.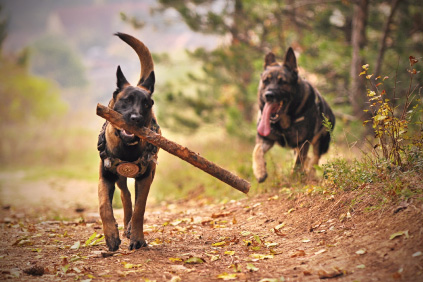 Raw dog treats are a delicious and nutritious way to reward your canine pals. Made from natural ingredients such as bone, raw meat and herbs, raw treats complement a well-balanced raw diet and help to keep your dog stimulated by having them work for the meat off the bone and to get to the marrow inside, which releases endorphins to their brain keeping your dog happy and engaged.
What are the benefits of giving raw dog treats?
Raw dog treats have a whole host of benefits for your dog to keep them happy and healthy. The first benefit to your dog is its dental health. Dogs are prone to gathering plaque on their teeth due to saliva, food and existing bacteria in their mouths combining to create a sticky coating on their teeth. Raw treats such as duck necks, lamb ribs and beef moon bones are perfect for scraping teeth free of plaque and strengthening jaws.
The second benefit of raw dog food is stimulation. Sometimes it can seem like your dog is just a massive furry ball of energy. You can help them release this energy and keep them calm by mentally stimulating and challenging them. Your dogs will enjoy the challenge of chewing, biting and gnawing into a nutritious beef bone marrow, goose wing or even duck feet!
The third benefit of raw dog treats is their use as training aides. Training is an essential part of any hard-working dog's life, and it comes as no surprise that dogs are motivated by food. As your dog works their way through training, you may find that they go through many treats, so it is essential to feed them nutritious treats such as dehydrated duck feet, which allow you to keep the calories down and prevent your dogs from putting on too much weight.
What raw dog treats do we offer?
We provide a wide range of nutrient-packed treats your dogs will love, from meaty bones, perfect for stimulation and dental health, to dehydrated treats which aid you when training them. Here are a few examples of what treats we offer:
Dehydrated rabbit ears with fur